There's a certain magic in the way bohemian style weaves together elements of nature, artistry, and nonchalant elegance. Originating as a counterculture movement, the boho aesthetic has evolved into a beloved fashion and lifestyle choice that celebrates individuality and freedom. As we adorn ourselves with flowing dresses, layered accessories, and a sense of unbridled creativity, the question arises: how can we translate this captivating charm into the realm of makeup?
Effortless Boho Makeup Ideas
The Bohemian beauty ethos celebrates the simplicity and radiance of the natural self. Effortless and enchanting, boho makeup captures the essence of embracing your inner free spirit. Here are some makeup ideas that perfectly encapsulate the boho charm:
The Sun-Kissed Glow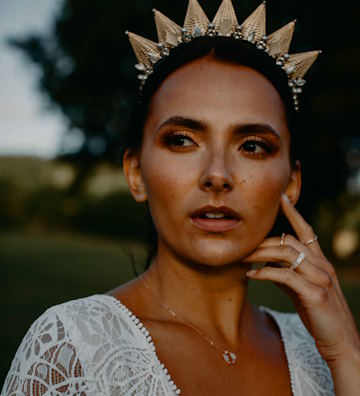 To achieve the coveted sun-kissed glow, begin by prepping your canvas with a lightweight moisturizer and a sheer coverage foundation. Let your skin's natural beauty shine through while evening out any imperfections. Next, add a touch of warmth with a subtle bronzer application along the hollows of your cheeks, temples, and jawline. This creates a soft contour that mimics a sunlit glow. For the finishing touch, apply a luminous highlighter to the high points of your face – the tops of your cheekbones, bridge of the nose, and cupid's bow. This step captures and reflects light, adding a radiant and ethereal quality to your look.
Dreamy Eyes
Evoke the dreaminess of boho style with warm-toned eyeshadows like soft browns, terracottas, and shimmering golds. Begin by sweeping a neutral shade across the lid as a base. Then, softly blend deeper shades into the crease for a seamless transition. The key is achieving a natural effect, as if the colors are an extension of your own radiance. For a subtle pop, consider adding a touch of shimmer to the center of the lid. This draws attention to your eyes and enhances their allure.
Natural Flush
Boho makeup celebrates the flush of youth and vitality. Opt for cream blush in rosy or peachy hues to emulate that natural, just-came-from-the-outdoors look. Gently dab the blush onto the apples of your cheeks and blend it out for a soft, diffused effect. The goal is to recreate the gentle rosiness that accompanies a brisk walk in the sun.
Feathered Brows
Embrace the relaxed boho vibe with feathered brows. Use a brow brush to gently sweep your brow hairs upwards, creating a feathery, undone appearance. Enhance your brows' natural shape and fullness with a brow gel or pencil, working with the direction of your hair growth. The result is soft, organic, and perfectly in tune with the carefree spirit of boho style.
Laid-Back Lips
Finish off your look with laid-back lips that embody comfort and understated charm. Opt for a tinted lip balm or a lip stain in shades like nude, mauve, or dusty rose. These colors enhance your lips' natural hue while adding a touch of color. Let go of the need for precision – boho makeup celebrates the beauty of imperfection and the authenticity of your unique features.
Boho Makeup for Special Occasions
While boho makeup is often associated with everyday elegance, it can seamlessly transition into special occasions without losing its enchanting essence. Here's how to elevate your boho look for those memorable moments:
Adding a Touch of Glam While Maintaining the Boho Essence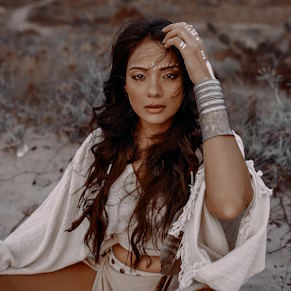 For special occasions, infuse a hint of glamour into your boho makeup while staying true to its core simplicity. Opt for a slightly more defined eye makeup by deepening the crease with richer shades like burgundy or deep gold. Consider using a liquid eyeliner to create a delicate wing, adding a touch of sophistication. This elevated eye makeup beautifully complements the boho spirit by enhancing your eyes while retaining the free-spirited softness. Pair it with a glossy lip in a deeper shade for a modern boho-chic twist.
Incorporating Small Metallic Accents for a Festival-Inspired Look
Festivals and special events call for a touch of magic. Enhance your boho makeup by adding subtle metallic accents to your eyes or cheeks. Apply a metallic eyeshadow to the center of the lid for a mesmerizing pop of shimmer. Alternatively, lightly dab a metallic highlighter onto your cheekbones and the inner corners of your eyes for an ethereal glow. These delicate metallic touches capture the playful essence of festivals while harmonizing with the natural beauty at the heart of boho style.
Using Faux Freckles to Enhance the Natural and Carefree Vibe
Faux freckles are a whimsical way to embrace your inner bohemian goddess and add a touch of youthful charm to your look. Use a brow pencil or eyeliner to gently dot freckles across your cheeks and nose, focusing on areas where the sun naturally kisses your skin. This subtle addition enhances the carefree and sun-kissed aura that defines boho beauty. Just remember, less is more – a scattering of freckles goes a long way in capturing that spontaneous and effortless allure.